Article: Keeping your baby safe: Importance of BPR compliance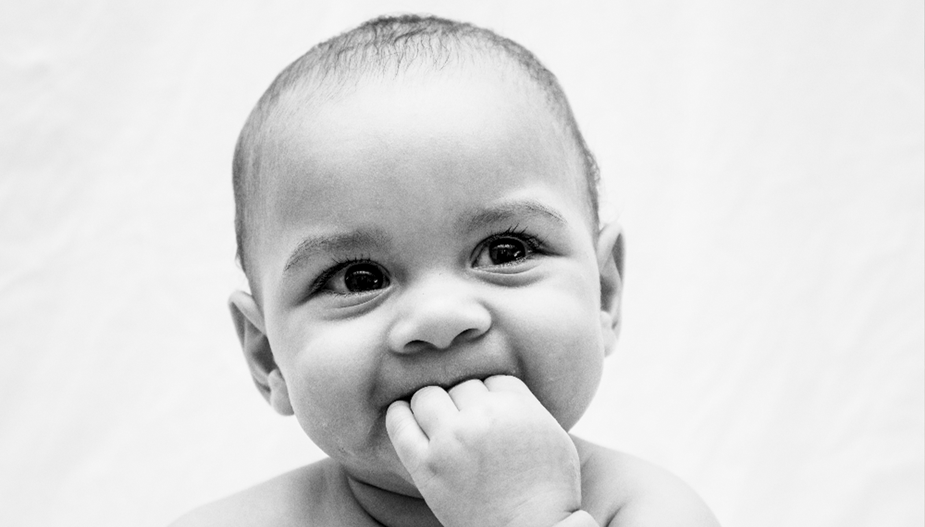 Keeping your baby safe: Importance of BPR compliance
If you're on the hunt for a genuinely safe, natural and effective baby sanitiser or hygiene product, you cannot get better than buying a brand that is compliant with the Biocidal Products Regulation (BPR), like Labology 3. Yes, we say this a lot to new mums and parents because it's really important to guarantee the safety and health of your home. Especially for little ones. Here's why.
The BPR is the regulatory body in Europe that sets the standard and ensures the safety and effectiveness of cleaning products, sanitisers and disinfectants. They test how well formulations eliminate harmful superbugs, which ones they work against, how quickly they achieve it and its safety for use on humans (like your baby), animals, surfaces, food and feeding areas and even drinking water. In short, they are the gold standard for safety and effectiveness. And they make sure the labels and packaging follow a strict standard that places your baby's and your safety first.
How to become baby sanitiser- savvy
Now you might be surprised to learn that not every brand on the market has had their formulations approved, much less comply with the BPR standard. The BPR requires manufacturers to provide detailed information about the ingredients and potential risks of their biocidal products. Not only is it a costly process, it's a lengthy one. New cleaning substances that require approval can take many years and millions of pounds - and it's all a gamble. You're not guaranteed to pass, after all.
Baby hygiene sanitising and cleansing water A.K.A Hypochlorous acid (the kind and gentle baby-safe and body-based active in our range of sanitisers) is one such new ingredient. It's taken our lab over 13 years and about £4 million pounds to attain approval. An effort that has been well worth the wait and investment. Not only have we been approved for most bacteria, yeasts, fungi and viruses including Strep A, Covid-19 (on surfaces), Norovirus and Influenzas (check the full list here) working in seconds, our formula meets all applications. That is, for use on humans, animals, surfaces (including those that come into contact with food) and even drinking water (which is why we know our range of baby hygiene sprays are safe to swallow, although we don't recommend you actively drink it).
Health risk of baby sanitisers that are not compliant with BPR standards
But the worrying thing is, we're the only baby hygiene sanitising and cleansing water on the market that have their formula approved. It's concerning because there are several risks of buying ones that are not compliant with the Biocidal Products Regulation.
First, products that are not compliant with the BPR may not have been tested for safety and effectiveness. Hypochlorous is a very delicate eco-friendly cleaning substance made from electrodialysis of water and salt. 100% natural and simple ingredients. However, if not produced and packaged correctly using methods that have been approved by the BPR it can quickly become inactive rendering it ineffective.
On the other end of the spectrum of concern, is it can be made using bleach (not ours, of course) or made at concentrations that are too strong. This means that baby hygiene sanitising and cleansing waters that are not compliant could potentially contain harmful ingredients or be ineffective at eliminating bacteria and other harmful organisms regardless of the claims on their packaging and website. Using such products on a baby's skin or on items that go in their mouths or in their environment could potentially expose them to health risks, such as irritation, allergic reactions, infections or toxicity.
Second, products that are not compliant with the BPR may not have proper labelling and packaging information. They may make unsolicited claims of effectiveness and safety, making it impossible for shoppers like you to make the best informed decision for your family and home. We feel that this is particularly important especially if claims such as "safe to swallow" on products marketed for babies, toddlers and kids are being made. Safe by what standard and what authority if not the BPR?
How we compare to other baby hygiene sanitising and cleansing waters
Having gained the Biocidal Products Regulation approval and certification for safety and effectiveness on all applications including drinking water, our lab tested two competitors on the market against our formulation. The results were as follows:
There are a couple of things that stood out to us from this test.
The concentration of active in Competitor 1 is strong. Bleach has a concentration of 500ppm for comparative consideration. Similarly Competitor 2 is a weaker concentration than our formula (ours being the formula we know works safely on all applications). With both Competitor 1 and 2's methods of production being unregulated, there's no way of knowing whether every production run produces the same concentration of active tested in this trial, potentially yielding stronger or weaker concentrations. As a result, there is no guarantee that their products are suitable for use in your baby's environment or safe to swallow.
The pH value of both competitors are below the pH value of our skin producing an acidic product.
The antibacterial activity of both competitors did not match the claims on their label.
Overall, buying baby sanitising water that is not compliant with the BPR can potentially expose your baby to health risks and make it difficult for consumers to make informed choices about the products they use. We're really proud to be the only brand to offer mums and dads safe and effective sanitising waters for their babies and toddlers. We make our sprays from electrolysed water and salt to a food-safe standard compliant with BPR. Because we know how likely it is that your baby will pop their fingers and items in their mouths and we want them to be free from harmful germs and harsh chemicals. And above all, we want you to have the peace of mind you're using only the best.
Featured product
You might like to try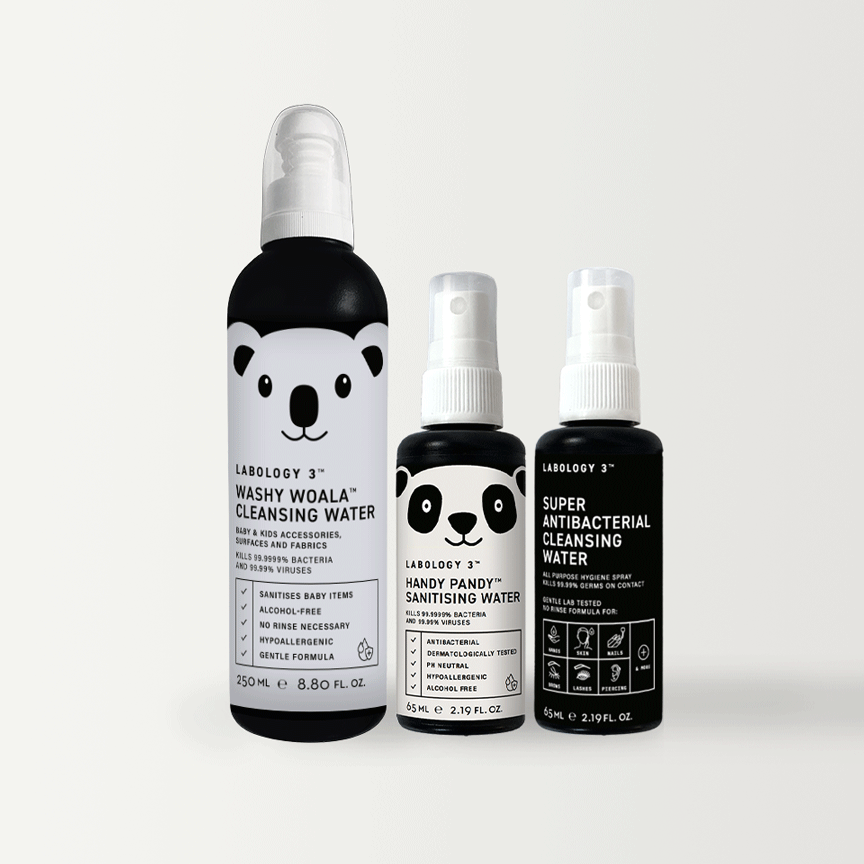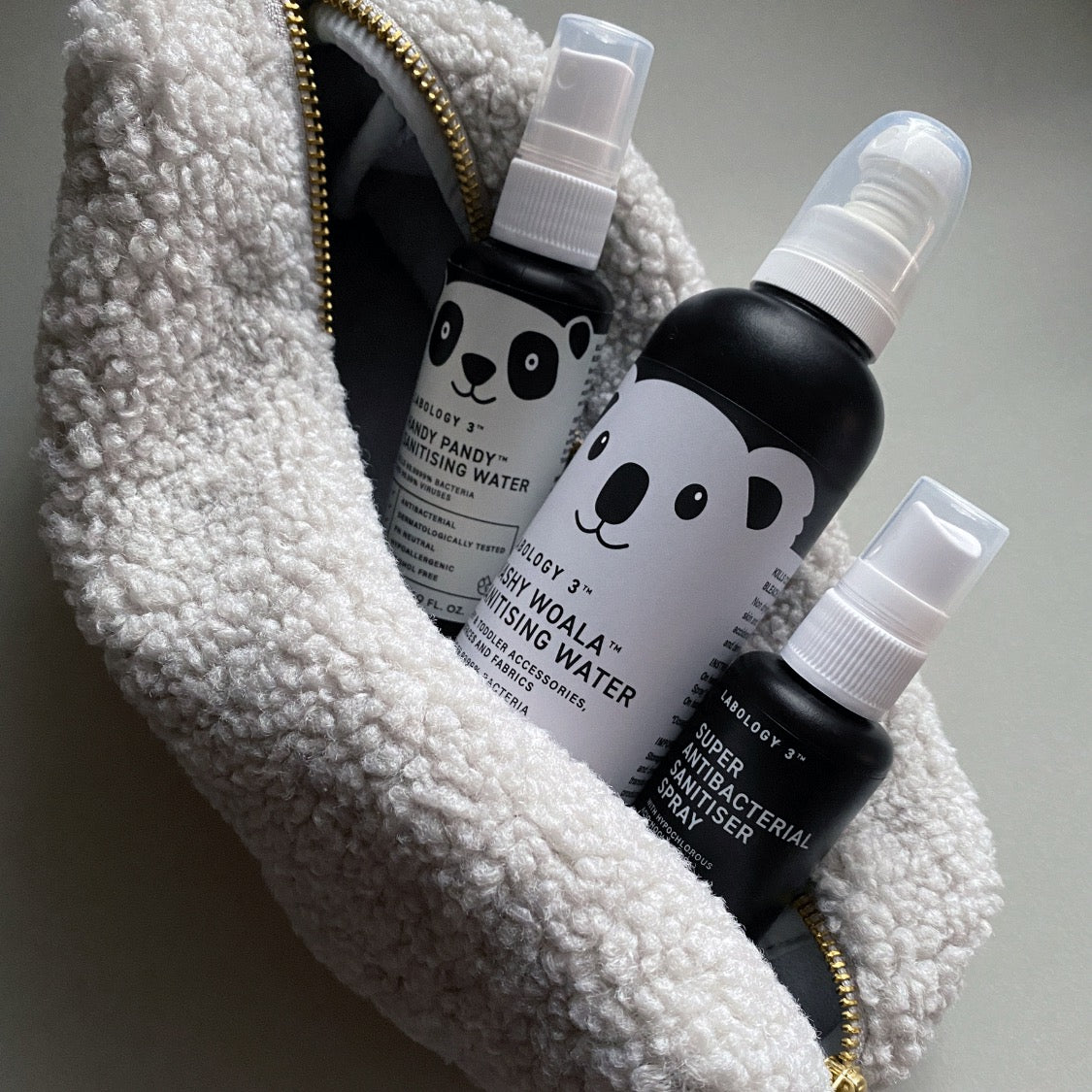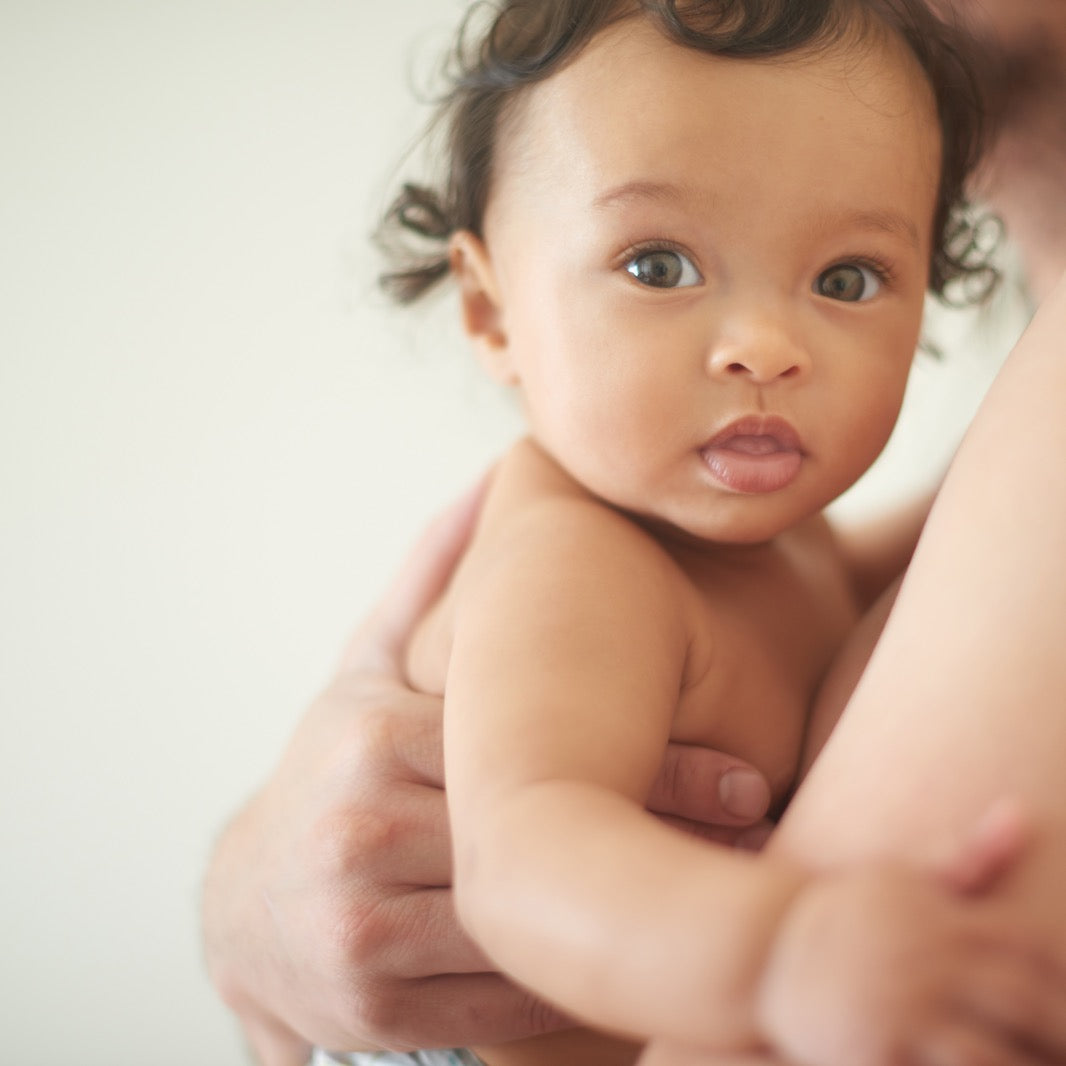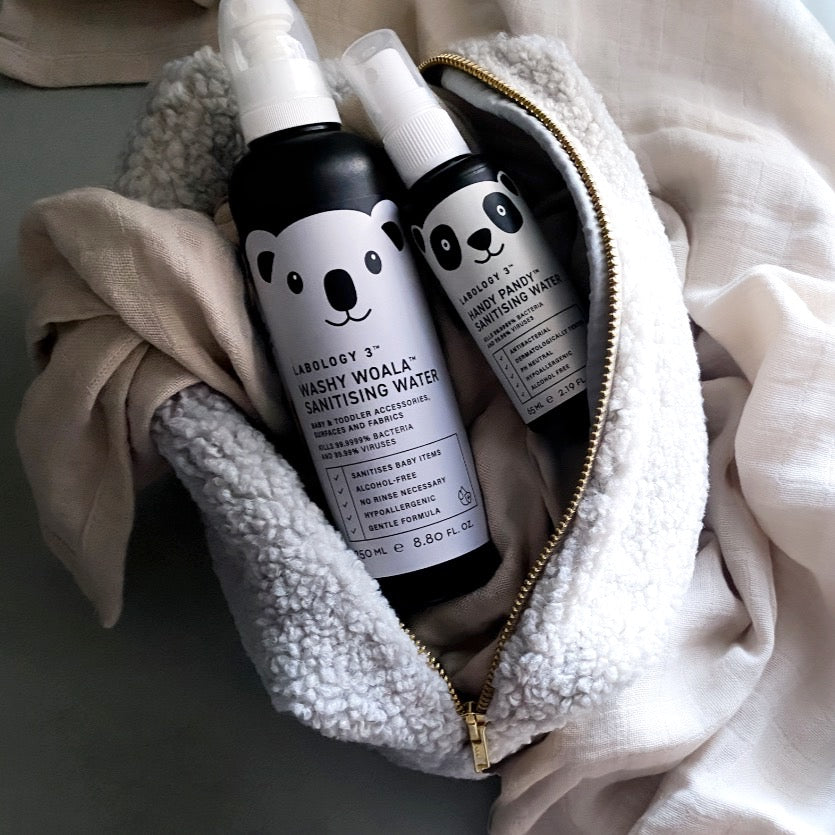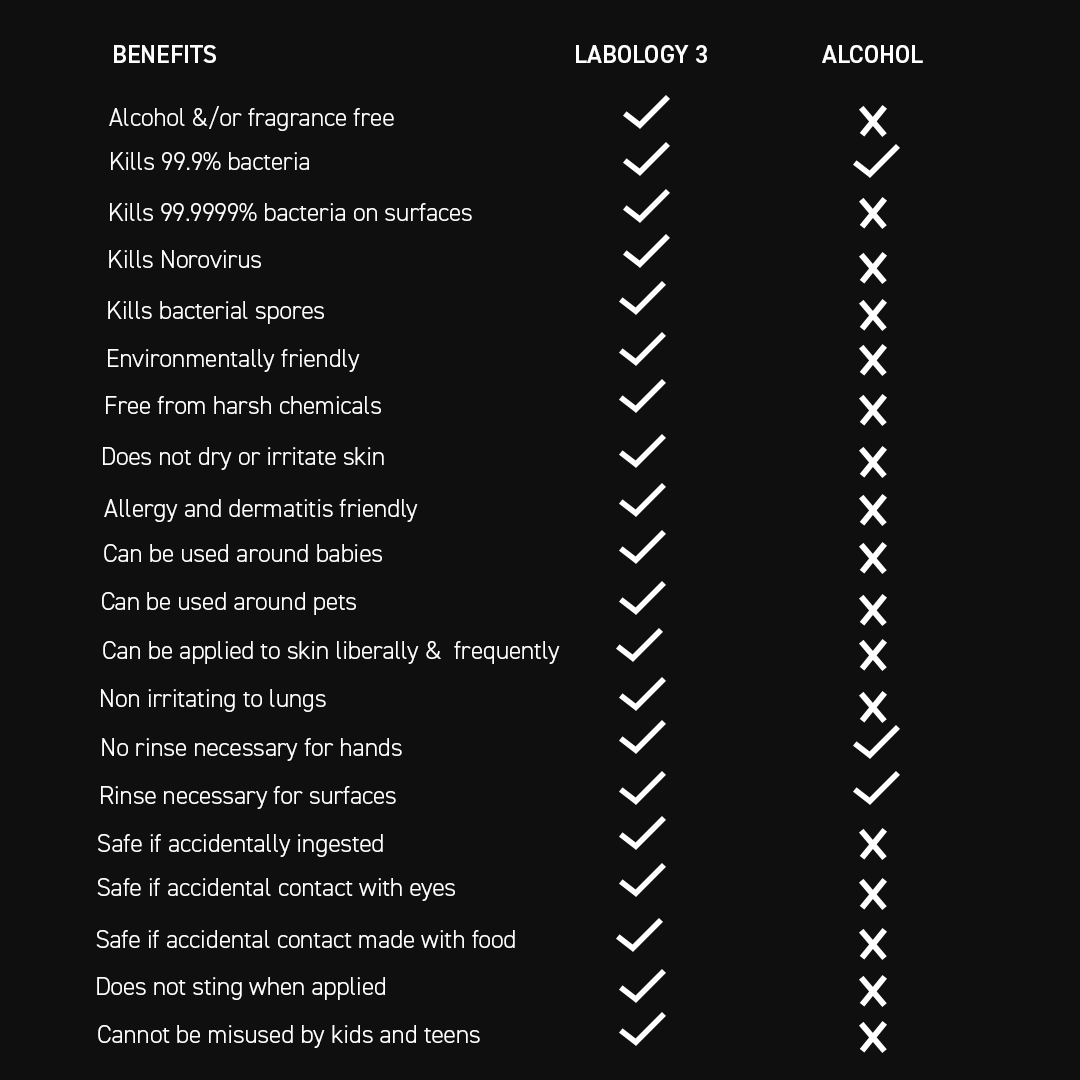 Sale price

£32.99
Regular price
(/)
---
The Mama & Baby Essential Hygiene Kit is a collection of gentle cleansing waters designed to meet the needs of new and expectant mothers. This kit includes our renowned Super Antibacterial Cleansing Water for mums, Handy Pandy Cleansing Water for babies, and Washy Woala Cleansing Water for baby's items. Each product is carefully formulated to provide effective yet gentle no-rinse cleaning, ensuring the safety and well-being of both mother and baby. From the hospital bag to the nappy bag and play dates at soft play, this essential kit is your trusted companion for maintaining hygiene. Experience the power of natural ingredients and the assurance of compliance with Biocidal Products regulations.