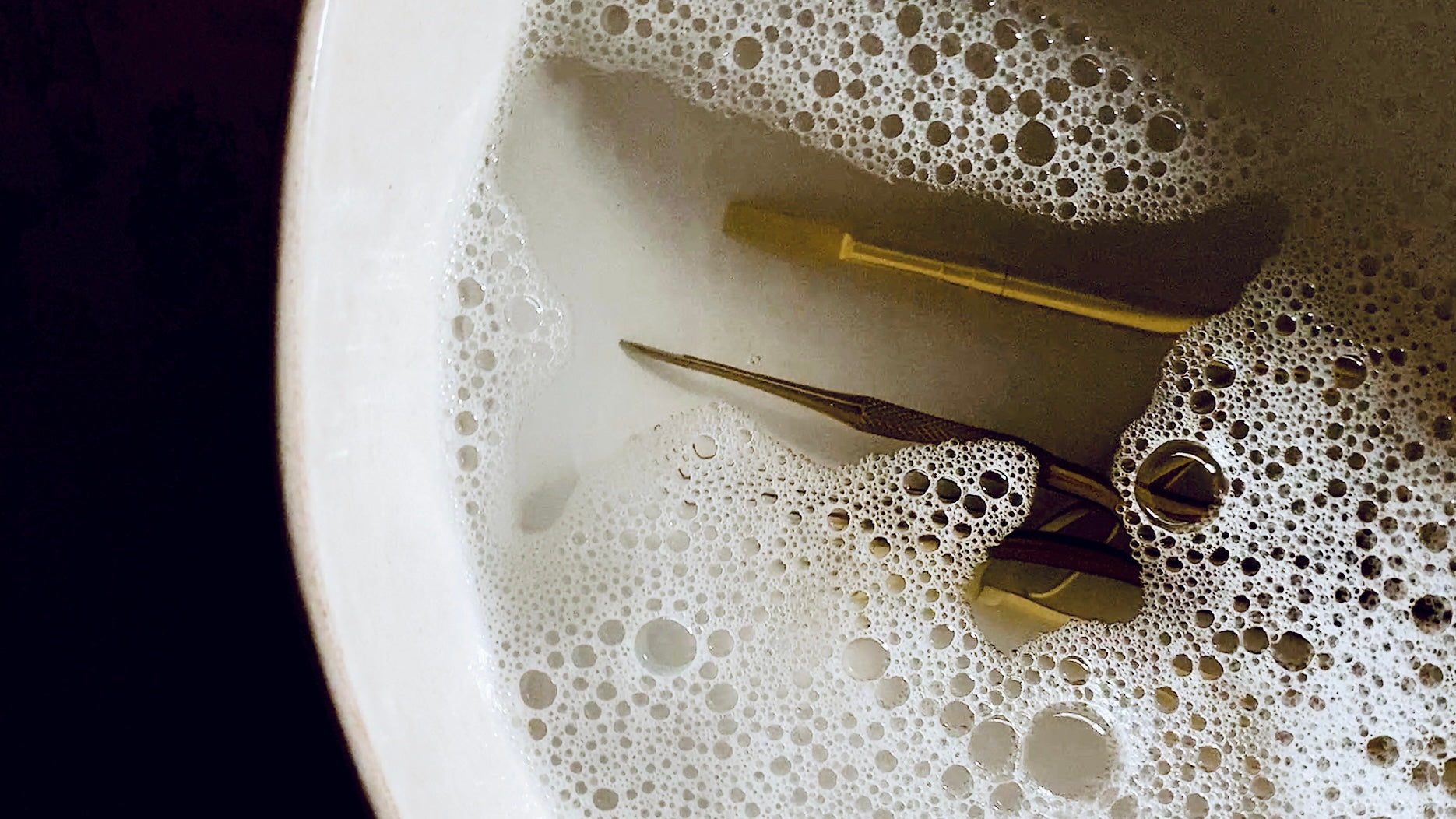 Comparisons
The active inside is all the same. However, the instructions for use on the labels differ!

This means while you can use either size bottle for all applications, you do need to make sure you get clued up on the directions for use on skin and nails versus surfaces and tools!

You can learn all about how to use our Super Antibacterial Cleansing Water on our 'How To' page here.
Technically they are the same active inside, just marketed for a different audience. However, the labels and instructions for use do differ based on the marketed application. So if you're intending to purchase one bottle, but using it for a purpose not detailed on the label, please ensure you are following the correct guidelines for use.
Absolutely! And you'll gain a whole host of benefits when you do, including:

Faster contact time: We eliminate 99.9999% bacteria and 99.99% fungi in under 60 seconds; as well as 99.99% viruses in under 2 minutes. Compared to the 15 minute contact time required with traditional blue disinfectants.
Our active is biodegradable: As a result it won't pollute groundwater supply nor pose harmful threats to aquatic life unlike Traditional Blue Disinfectants.
We are non toxic: Unlike the blue stuff, our active doesn't release Volatile Organic Compounds into the air, which otherwise pollutes indoor air quality, contributes to climate change and can affect lung health with long term exposure.
No need for PPE: Our hygiene water has passed PT1 testing with the Biocidal Products Regulation, making it safe for use on skin. Unlike Traditional Blue Disinfectants you do not need to wear PPE.
Our hygiene water comes out top of the class when compared to alcohol based sanitisers and disinfectant wipes. Here's just some of the reasons why you'll want to make the switch:

Non drying and non irritating: it's super gentle on skin and won't strip or irritate even the most delicate skin types.
It's more effective: unlike alcohol wipes and disinfectants we work against bacterial and fungal spores as well as blood borne viruses and Norovirus.
It meets HABIA & HSE guidelines: You might be surprised to learn that alcohol wipes are not recommended for use on beauty tools like nippers as they are insufficient. The alcohol evaporates before the necessary contact time to work and they do not work against blood borne viruses. By comparison we do!
We're faster: Alcohol disinfectants for tools require a 5-10 minute fully submerged contact time to meet its antimicrobial claims. By comparison, Super Antibacterial Cleansing Water works in under 2 minutes meeting 9 BS EN categories including use in the food and medical area.
We don't contribute to carbon emissions: there is a high carbon emission cost with the manufacture of alcohol based sanitisers and disinfectants, posing an environmental burden on our planet.
Definitely not! Our active is a very mild and natural acid made from electrolysed water and salt. Despite its gentle nature it is up to 100 times more powerful than bleach, without the toxic and harmful effects.
Quality
We've had our active third-party stress-tested for corrosion on metals in accordance to our directions for use on premium quality stainless steel. Following our directions for use we do not cause pitting and rusting on high quality metals.

However, there are a number of factors that can cause rusting that we cannot guarantee. These include:

Low grade metal frames, albeit coated in titanium.
Low quality titanium alloys or thin coating.
High presence of soft metals such as aluminium in the material composition of the tools.
Storing tools in humid environments that cause moisture.
Poorly drying your tools post disinfection.
Not rinsing actives off with water.
Interactions between two different cleaning products can increase risk of rusting irrespective of the active used. Never combine two different cleaning products including wipes without rinsing off with water inbetween.

These factors are relevant for the use of all cleaning actives including alcohol, bleach, blue disinfectants and hypochlorous.

Some brands recommend the use of wipes to reduce the risk due to the lack of active on the wipe. However, this is problematic because wipes do not sufficiently disinfect tools in accordance to HABIA & HSE standards. This is why you will never see the use of wipes as a disinfection standard for tools in the food or medical industries.

To avoid rusting opt for premium grade metal tools (we recommend grade 316 stainless steel which is highly resistant to corrosion and is a food and medical grade metal and/or true titanium); follow our tested and approved guidelines for use; and always rinse off with water before and after use.

You can follow our best practice guidelines here.
Super Antibacterial Cleansing Water is naturally stable and contains no artificial stabilisers. We've had our stability validated by the Biocidal Products Regulation for a minimum of 12 months from manufacture. Whilst we'd love to share how we've achieved this, this is classified information and forms a huge part of our competitive edge because most hypochlorous on the market is notoriously unstable. But not ours!

By comparison, most competitor products claim to offer 3 months shelf life. Our team of scientists put this to the test. They sampled their formulae using the same quality standards that established our 12 month stability. They concluded that, on average, competitors' formulae loss stability after just 6 weeks!
Super Antibacterial Cleansing Water is still safe to use after it has passed its shelf life. The product slowly destabilises into water and salt, gradually losing its disinfectant potency.
Our hygiene water meets compliance to the European Biocidal Products Regulations. It has been independently lab-tested and proven effective against a wide range of microbes complying with: 

BS EN 13727
BS EN 1500
BS EN 1650
BS EN 1276
BS EN 13704
BS EN 1656
BS EN 14204
BS EN 13697
BS EN 14476

Our hygiene water is compliant with safety for PT1-PT5 applications. That is human hygiene, hard surfaces, food contact surfaces, animal hygiene and drinking water (though we do not recommend ingesting).
All our products are kind to humans, animals and the evironment. They are non-flammable, non-toxic, can be handled without protective equipment and are easy to dispose of.

Our formula has been laboratory-tested as safe for humans, without any health risks. However, it may cause erosion if bought in contact with aluminium and aluminium alloys.
No. Our cleansing water is produced from three everyday ingredients: water, food grade salt, and electricity. Nothing else. It is transformed into an eco and powerful disinfectant using high performance science which has been perfected over the course of 20 years.
Our Super Antibacterial Sanitiser Spray is proven effective against, but not limited:

Bacteria:

Campylobacter jejuni
Escherichia coli including (0157)
Enterococcus species
Helicobacter pylori
Listeria
Legionella pneumophila
Pseudomonas aeruginosa
Staphylococcus aureus (including MRSA)
Samonella cholerasuis
Mycobacteria tuberculosis
Mycobacterium avium intracellulare
Acineobacter baumannii
Bacterial Endospores
Bacillus cereus
Bacillus subtilis
Clostridium difficile
Clostridium sporogenes

Viruses:

Covid-19 (hard surfaces only)
Adenovirus type 4
Bacteriophage MS2
Hepatitis A & B
Herpes type 1
HIV-1
Infectious bronchitis
Influenza including H1N1, H5N1 and H7N9
MS2 virus
Norovirus (Human and Murine)
Orthopoxvirus
Polio enterovirus 1 & 2

Bacterial Endospores:

Bacillus cereus
Bacillus subtilis
Clostridium difficile
Clostridium sporogenes

Fungi:

Aspergillus niger
Candida albicans
Trichophyton mentagrophytes

Yeasts:

Zygosaccharomices bailii
Candida albicans
Moulds
Botrytis (grapy mould)
Powdery mildew

Protozoa:

Cryptosporidium muris
Cryptosporidium parvum
This smell is produced naturally when the salt and water go through the electro-dialysis process. It lasts for only a couple of seconds with each spray and then becomes neutral.

The active in Super Antibacterial Cleansing Water is not the same as sodium hypochlorite that is used in swimming pools and gives it its distinctive smell.
Shop super Antibacterial cleansing water
Other than their size and appearance they are the same active inside! Handy Pandy is more portable friendly, making it ideal for changing and school bags. Whereas Washy Woala's larger size is preferred for nappy caddies, playrooms and the nursery.
You might be surprised to learn that our range of Baby & Kids hygiene water is the only hypochlorous based disinfectant for kids that is compliant with the Biocidal Products Regulation.

This is super important because if it's not been tested and approved by the competent authority, then how do you know it is safe, much less effective for your family?

You can read more and learn all about why we created this range here.
Unlike other baby and kids hygiene water on the market, we can guarantee that our active has passed PT 5 testing with the Biocidal Products Regulation, which is safety for use in drinking water.

As a result, we know that if our hygiene water is accidentally ingested it is highly unlikely to cause any harm. However, we do not recommend you actively drink it. Follow the guidelines on our label and if you're concerned or present any symptoms seek medical attention immediately and present our label.
No. Unlike other forms of disinfectants like 70% alcohol, our range of hygiene water does not dry the skin out or cause irritation. Our formula is dermatologically tested, hypoallergenic and is pH neutral. It is so gentle, it can even be used around babies.

Our products contain no alcohol, no parabens, no fragrance and no bleach.
Absolutely! Because we're the only baby & kids hygiene water that is compliant with the Biocidal Products Regulation, we know that our products are food-safe. We have passed safety testing for food-contact surfaces, without the need to rinse (though we recommend a wipe down).