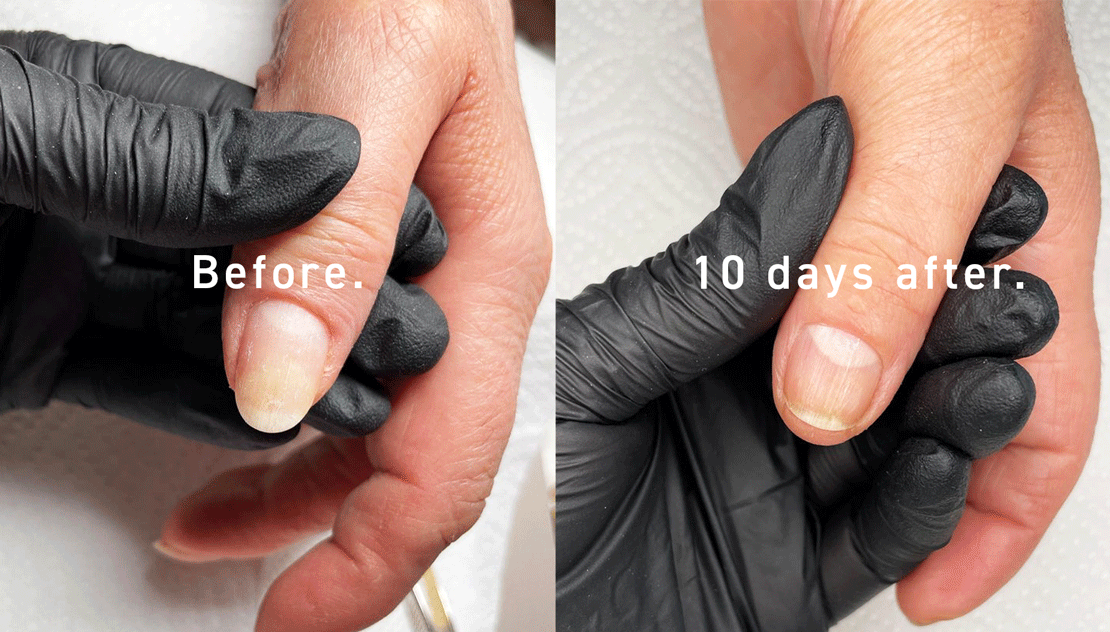 Transforming Nails: A Case Study of Onycholysis
In the ever-evolving world of beauty and self-care, our hands and nails play a significant role in making a lasting impression. However, facing nail health issues such as Onycholysis, a condition characterised by the separation of the nail plate from the nail bed, can pose a significant challenge for both professionals and clients. Severe cases must be referred to a doctor, especially if signs of bacterial infection, onychomycosis or inflammation are suspected. 
However, world renowned nail expert Marian Newman, of Nail Knowledge, discovered the remarkable results our Super Antibacterial Cleansing Water may provide after personally testing the product on her own nails affected post-COVID. After three weeks of use, she hypothesised the spray created an inhospitable environment for fungi and bacteria under the nail bed, encouraging healthy nail growth and reattachment. Feeling inspired by Marian's reports, Bio Sculpture Manicurist Sandra Silva decided to give it a go with a new client who she discovered suffered from the condition. We dive into her experience and how our revolutionary Super Antibacterial Cleansing Water is the best client aftercare recommendation.
What is Onycholysis and how can you help it? 
As a nail technician, it's important to remember that you are not a healthcare specialist and should not attempt to diagnose any conditions. However, when you come across Onycholysis, there are steps you can take both in the salon and at home to address the issue.
Onycholysis occurs when the nail plate separates from the nail bed, creating an opportunity for pathogens to infiltrate and worsen the problem. Your goal is to facilitate the reattachment of the separated nail plate to the nail bed without the occurrence of additional nail infections, whether fungal or bacterial. By implementing proper care and precautions, you can support the recovery of the nail unit. It's not surprising then, reputable nail technicians are finding that our antimicrobial hygiene water which has passed EN 1500 testing for use as a hand disinfectant expedites recovery. 
Sandra's Experience
IMAGE© SUPPLIED BY SANDRA F SILVA SHOWING HER CLIENT'S EFFECTED THUMB WITH ONYCHOLYSIS. 
After removing gels applied by another technician, Sandra tells us she was devastated to discover her new client had Onycholysis. The worst effected nail was the client's thumb, which you can visually see the yellowing and lifting- common signs and symptoms, of the nail from the nail bed as photographed above. Following the correct guidance, Sandra advised the client to:

Seek medical attention for diagnosis
Avoid all nail coatings
Keep the nails short and tidy
Wash hands 4-5 times a day
Apply premium quality hypoallergenic nail and skin oil under the free edge 4-5 times a day to help maintain the elasticity of the bed epithelium (Sandra recommended 

Bio Sculpture's Vitamin Dose)

. 
Sandra took a picture of the nails, dated it and kept it on file. Seeking to check in a week later she reported that she didn't notice a drastic change. Thankfully, learning of Marian Newman's experience which she saw from a comment Marian left on a post on our Instagram account, she decided to give our Super Antibacterial Cleansing spray a go.
In just 10 days the nail visibly grew and reattached to the nail bed as photographed below. 
IMAGE© SUPPLIED BY SANDRA F SILVA SHOWING HER CLIENT'S THUMB WITH ONYCHOLYSIS AFTER 10 DAYS INTRODUCING LABOLOGY 3 SUPER ANTIBACTERIAL CLEANSING WATER. 
Sandra tells us there's still a little bit of the nail that remains unattached, but is hopeful that by up-keeping the aftercare plan with our Super Antibacterial Cleansing Water, in a week or so this will fully grow out. 
Disclaimer: this post should not be taken as a substitute for medical advice and is shared purely for educational purposes. If you are concerned about Onycholysis please seek medical advice from a Registered Medical Professional. 
featured product
We think you'll love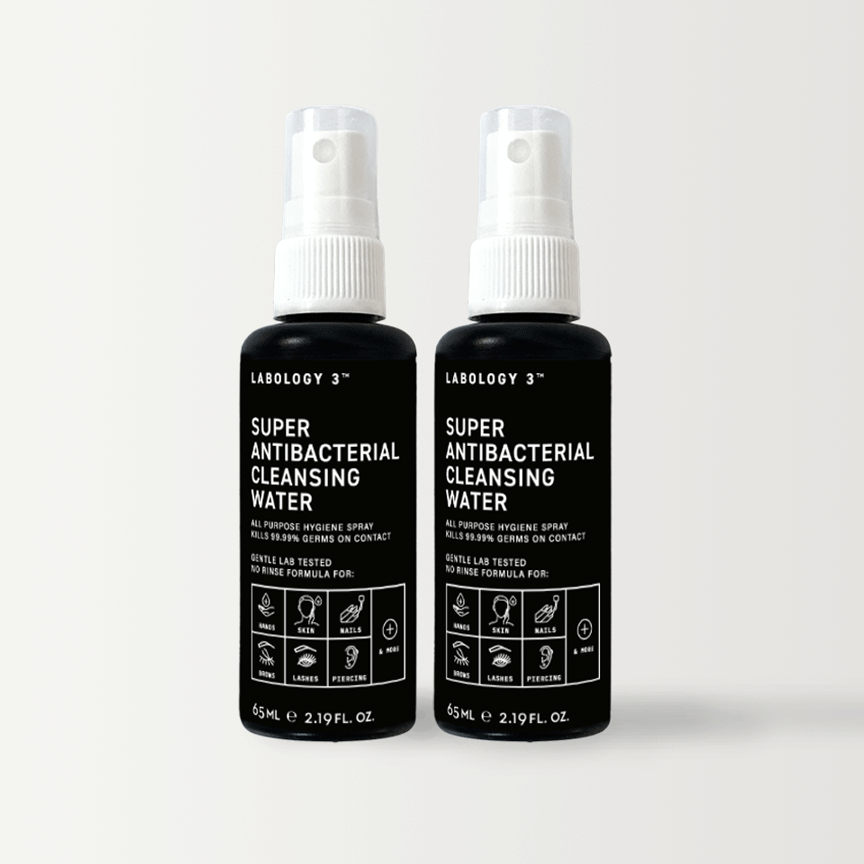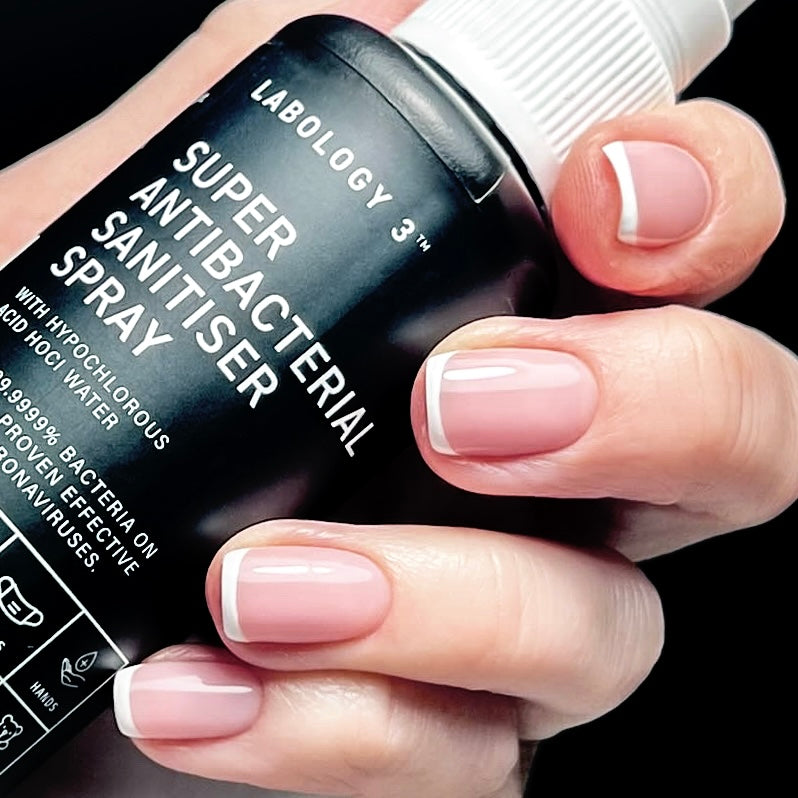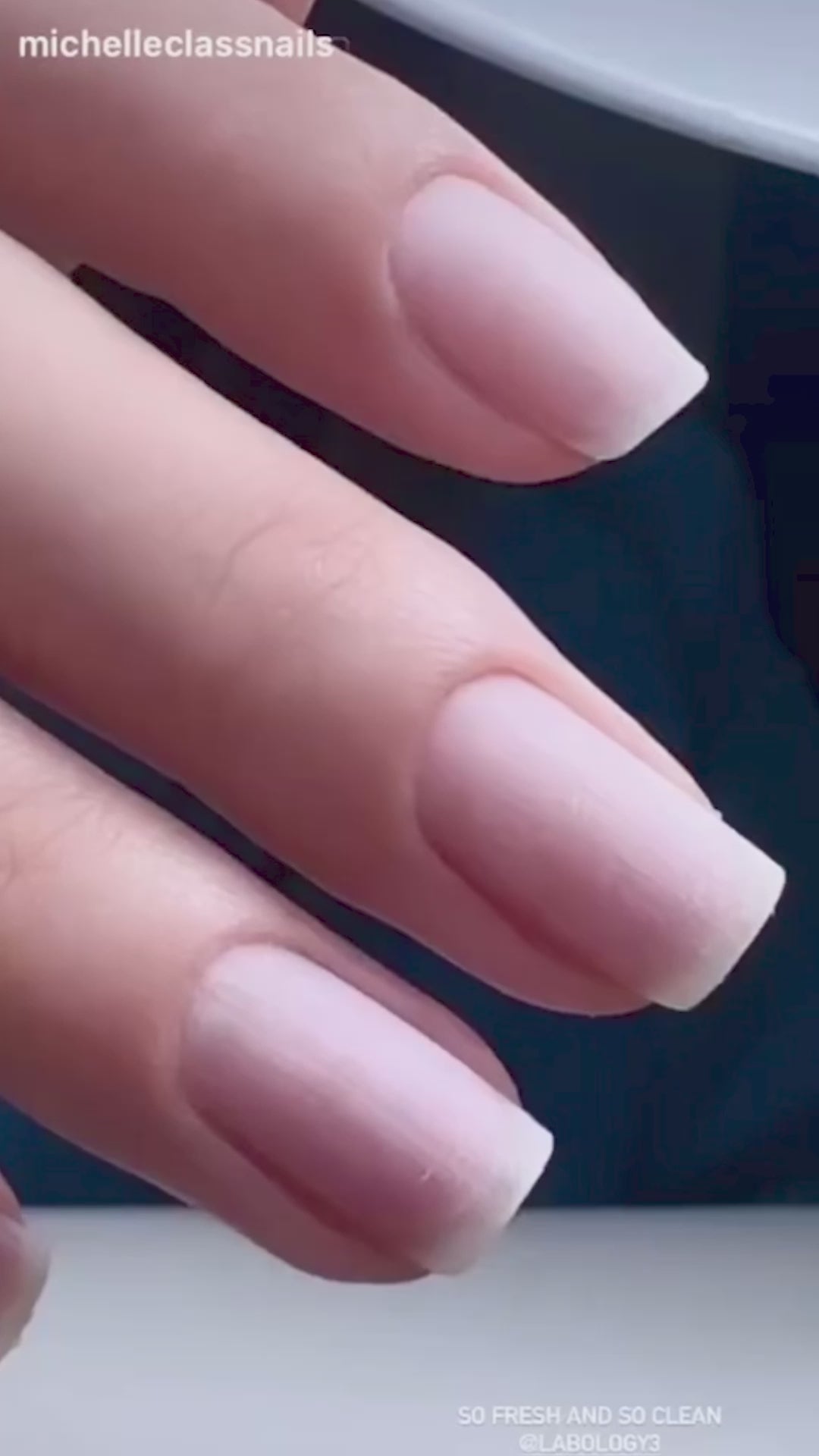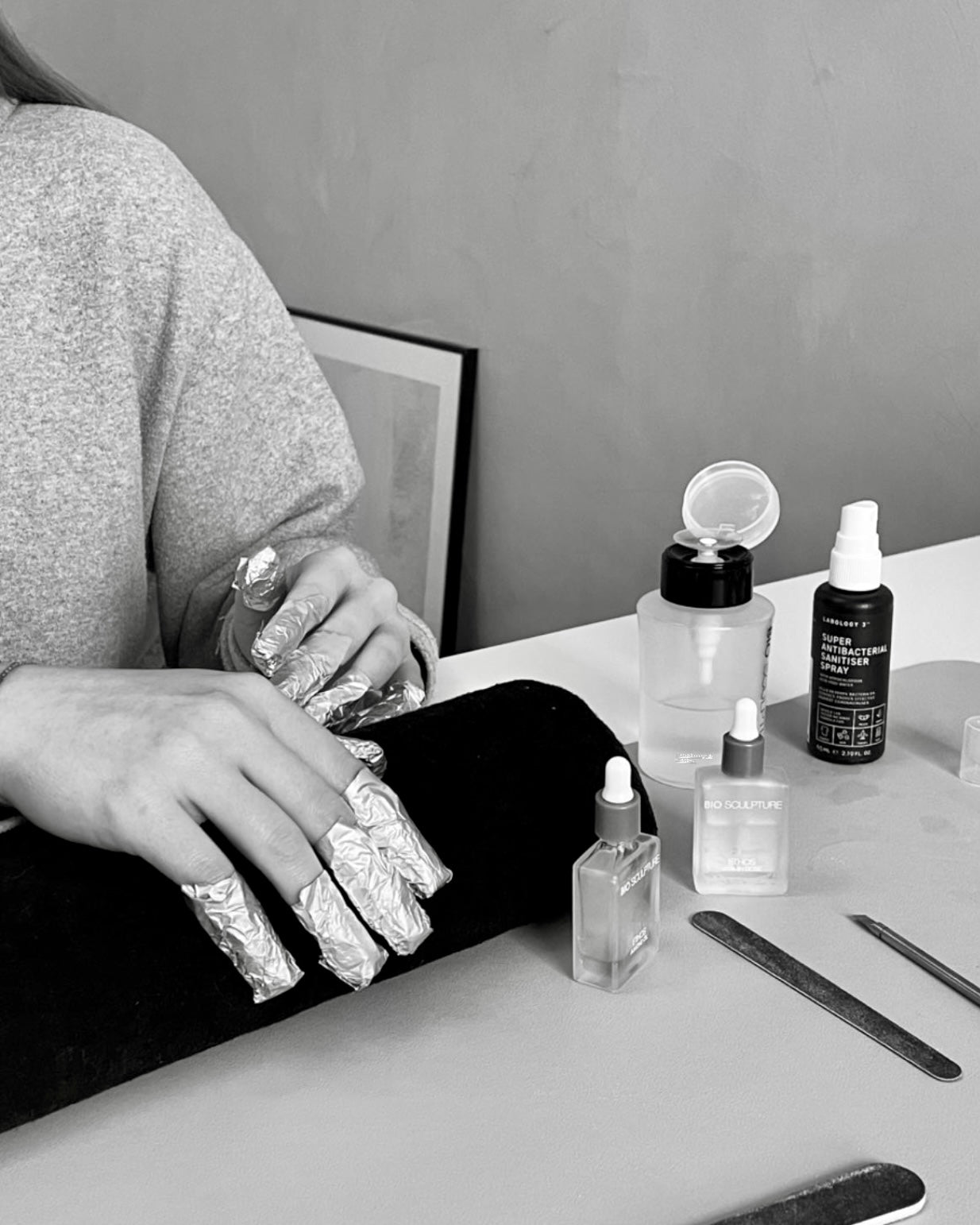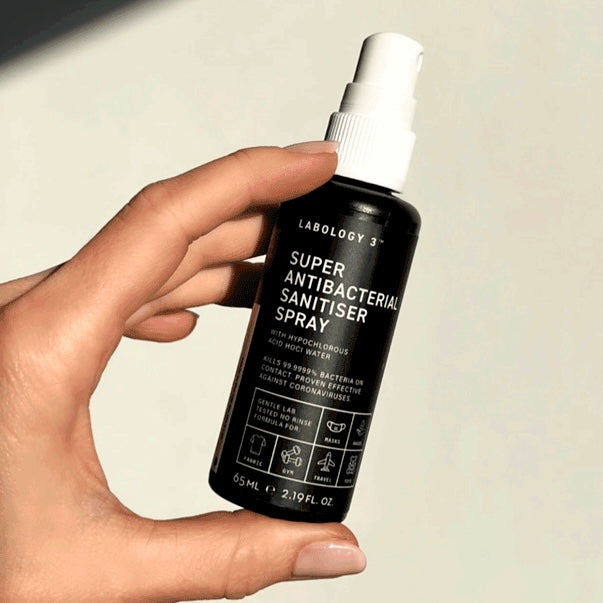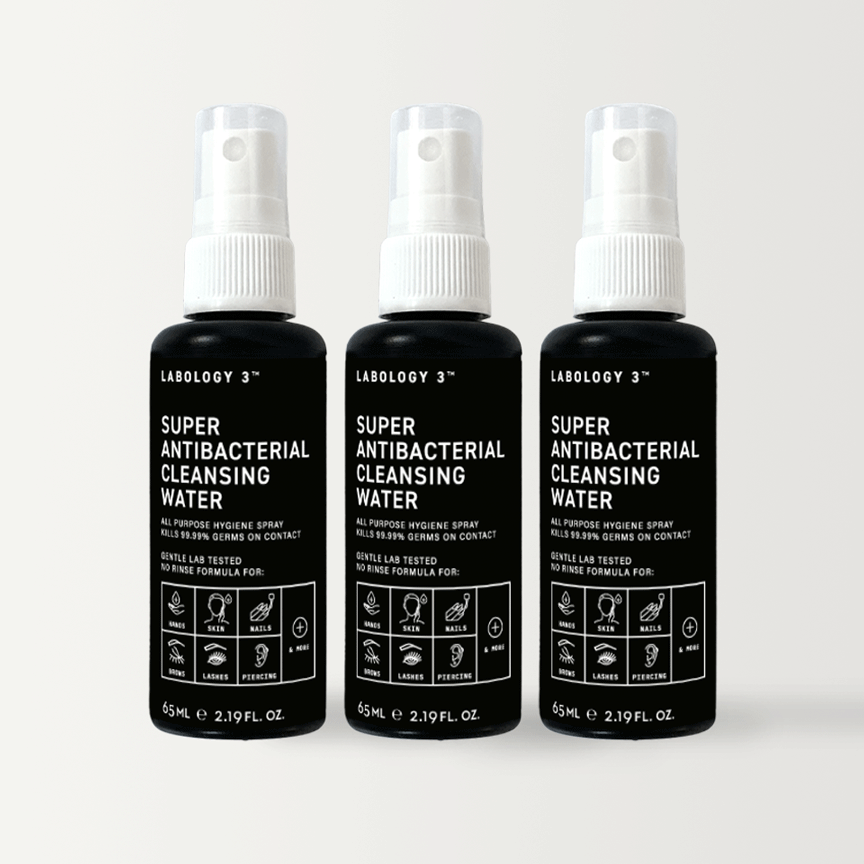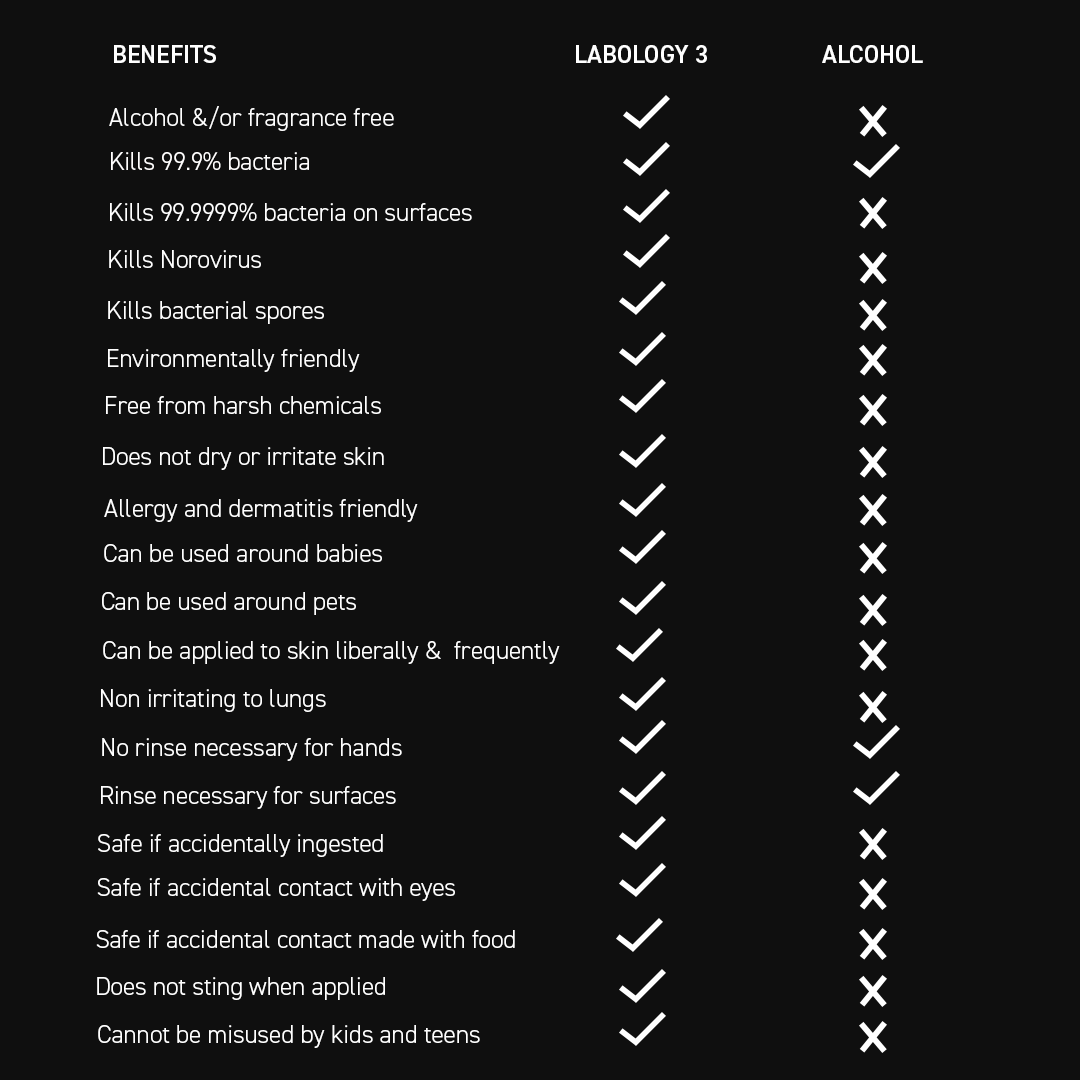 Sale price

£16.80
Regular price
(/)
---
The must-have skincare essential for all beauty professionals and enthusiasts alike. This all-purpose skin disinfectant is a game-changer in the world of beauty, keeping your hands, natural nails and skin protected and healthy while ensuring the highest level of hygiene.

Crafted with our signature hypoallergenic formula that is a cut above the rest, this alcohol and fragrance-free spray is gentle on even the most sensitive of skin types, leaving no dryness, stinging or irritation. It eliminates 99.99% germs while feeling just like water. It's pH neutral, compliant with the Biocidal Products Regulation and meets 9 EN categories making it the perfect alternative to traditional skin disinfectants.

Whether you're a nail technician looking for the best disinfectant for pre and post cuticle prep, or a beauty lover in need of a reliable all-purpose skin and hand sanitiser for your handbag, our Super Antibacterial Cleansing Water is your go-to solution.

Indulge in the ultimate luxury of healthy skin and nails.